Water Birth
About Our Water Birth Services
Read Our Water Birth FAQ Contact Us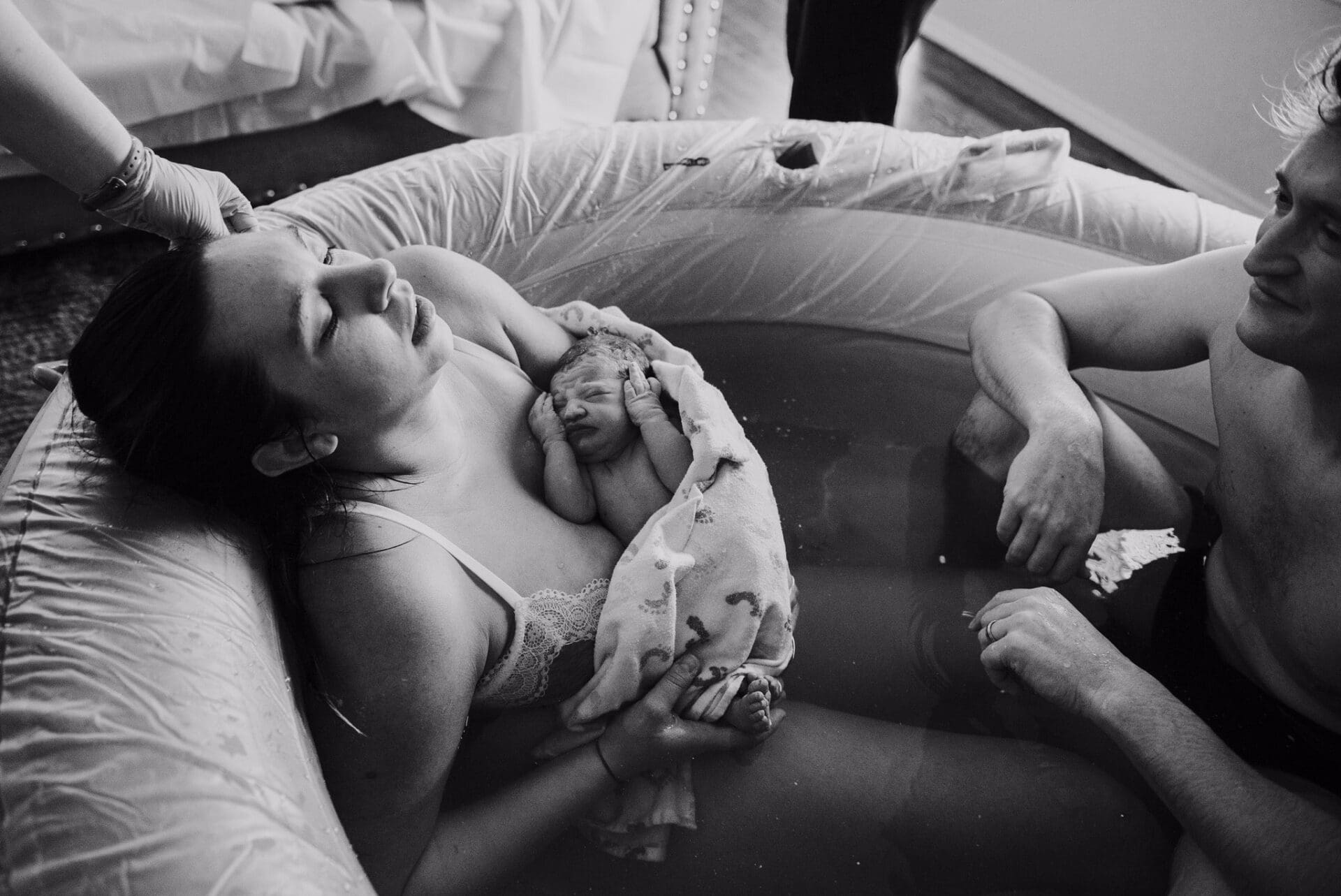 Water Birth FAQ
How do you keep the water warm?
The thick air walls of all our inflatable pools keep the water warm for hours. Birth Pool in a Box will hold its water temperature for over five hours within…
… one degree. Adding one to two soup pots or tea pots of boiling water, carefully to not touch the pool or mom, while bring the temperature of the water up several degrees without adding too much water to the pool.
What keeps the baby from breathing under water?
There are four main factors that prevent the baby from inhaling water at the time of birth: Prostaglandin E2 levels from the placenta which cause…
… a slowing down or stopping of the fetal breathing movements. When the baby is born and the Prostaglandin level is still high, the baby's muscles for breathing simply don't work, thus engaging the first inhibitory response. Babies are born experiencing mild hypoxia or lack of oxygen. Hypoxia causes apnea and swallowing, not breathing or gasping. Water is a hypotonic solution and lung fluids present in the fetus are hypertonic. So, even if water were to travel in past the larynx, they could not pass into the lungs based on the fact that hypertonic solutions are denser and prevent hypotonic solutions from merging or coming into their presence. The last important inhibitory factor is the Dive Reflex and revolves around the larynx. The larynx is covered all over with chemoreceptors or taste buds. The larynx has five times as many as taste buds as the whole surface of the tongue. So, when a solution hits the back of the throat, passing the larynx, the taste buds interprets what substance it is and the glottis automatically closes and the solution is then swallowed, not inhaled.
How is the baby monitored during water birth?
The manufacturers of monitoring equipment and hand held dopplers have developed water proof varieties of monitoring equipment. In typical waterbirths…
… the baby's heart tones are listened to every 30 minutes during the first stage and after every 15 minutes with pushing.
Is water birth safe?
The safety of water birth needs to be judged in looking back at the number of cases that have been reported world wide and the number of problems…
… that have occurred as a result of birth in water. To date, over 100,000 documented cases of water births gives us a good look at the statistics. The opinion of practitioners is that water birth poses no threat to mother or baby if all the normal parameters are met during labor and birth. If complications arise they are evaluated and sometimes the mother is asked to leave the water before the birth takes place. Everyone's goal is to keep mother and baby safe and to facilitate a satisfying birth experience. The British government stated in a published health report that any woman who wants a waterbirth should be able to have one and that it is up to the practitioner to become familiar with the technique if they are not already educated.
When do you enter the water?
You can use the labor pool whenever you want. Some women have found that if they get into the water in very early labor, before contractions are…
… strong and close together, the water may relax her enough to slow or stop labor altogether. There is some physiological data that supports this rule, but each and every situation must be evaluated on its own. Some mothers find a bath in early labor useful for its calming effect and to determine if labor has actually started. If contractions are strong and regular a bath might be in order to help the mother to relax enough to facilitate birth progression.
Can I be in the water if my amniotic sac has ruptured?
When the amniotic sac ruptures, or the water breaks, a woman can labor in the water. Studies show that the risk of infection does not increase from…
… laboring in the water, whether the amniotic sac breaks while the mother is in the tub, or whether it was already ruptured before she got in the water. Therefore, it has been suggested that the bath be used in a "trial of water" for at least one hour and allow the mother to judge its effectiveness. The first hour of relaxation in the pool is usually the best and can often help a woman achieve complete dilation quickly.
Testimonials
Tiffany is a highly knowledgeable nurse midwife who provides wonderful quality care in a peaceful way (especially for an anxious first-time mom-to-be)! As a health care provider myself, I knew I did not want a hospital birth, but care with a strong medical basis was important. Tiffany was exactly what we were looking for! She provided exceptional prenatal and postpartum care! I always felt heard during our sessions and felt comfortable asking Tiffany anything and EVERYTHING! She was extremely encouraging during my delivery and had an excellent team right alongside her

Alyssa Brown
My husband was so hesitant with having a home birth at first, but when we went to our consult with Tiffany she put all his worries at ease! After we left there we felt no need to even go to the other consult we knew this was the right fit for us! Lauren delivered my sweet little guy and it was such a wonderful experience. The support and encouragement I received was something I've never found anywhere else. These ladies go above and beyond and are with you every step of the way! I highly recommended them and I plan to come back for our next baby!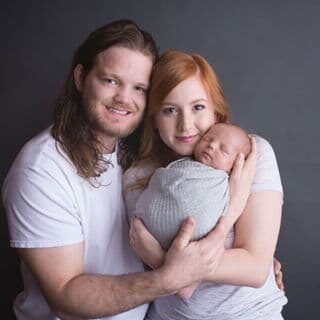 Brianna McKee
When we started looking into doctors and birth centers, we quickly realized that our options were pretty limited here in the Springs. When we found Tiffany she listened to our story and we quickly connected with her, her energy, and all that she shared with us. I walked out and immediately knew she was the one to guide us on this journey! On the day of delivery she showed up and two and a half hours later our little girl entered the world. She was brilliant and provided relief when I needed it most, made me feel safe and secure, and strong and capable the entire time. I am so appreciative!

Melissa Lenz





Local
Water Birth Colorado Springs | Mountain Miracles Midwifery
The Stuff Dreams Are Made Of …
Mountain Miracles is the only Colorado Springs Based Midwifery that accepts insurance. Their staff are certified nurse midwives whose services include Homebirth & waterbirth services. Our coverage area covers the entire Colorado front range area that includes Denver, Monument, Castle Rock, Colorado Springs, Peyton, Falcon, Pueblo & Canon City.
Where To Find Mountain Miracles Midwifery
Mountain Miracles Midwifery
3803 Manchester St.
Colorado Springs, CO. 80907
Phone: (719) 249-6008
Open: Monday – Friday: 9 am – 4 pm
Directions to Mountain Miracles from Colorado Springs Airport
Head west toward Milton E Proby Pkwy
Use any lane to turn slightly left onto Milton E Proby Pkwy
Turn right onto CO-21 N
Turn left onto Hwy 24 W/E Fountain Blvd(signs for 21 N)
Turn right onto S Academy Blvd until you pass by Wendy's (on the right in 2.6 mi)
Use the left 2 lanes to turn left onto Constitution Ave
Turn right onto N Circle Dr
Continue onto E Fillmore St
Turn right onto Hancock Ave
At the traffic circle, continue straight onto N Hancock Ave
N Hancock Ave turns slightly left and becomes Manchester St
Continue straight to stay on Manchester St Mountain Miracles Midwifery will be 148 ft to your right
More About Colorado Springs
Colorado Springs has amazing weather, with over 300 days of sunshine annually. Perched at six thousand thirty-five feet in the Pikes Peak region, the weather is warm during summers and moderate at spring, fall and winter.
You can find Colorado Springs just off the I-25. It enjoys close proximity to both the Colorado Springs Airport and Denver International Airport (20 minutes and 1 hr 30 min away respectively. You can easily find convenient shuttle service available at both airports. Colorado Springs Airport is the hub for five airlines with multiple flights to major hub cities and connecting flights to multiple international destinations.
The Colorado Springs region enjoys a dearth of museums, performance centers, and galleries. In close proximity are the Colorado Springs fine arts center, Manitou art center and the Art Galleries in Old Colorado city. You can find touring talents at the Broadmoor world arena and Pikes Peak Center. There are also performances to be found at The Mezzanine, Theatreworks, and at the Milibo Art Theatre (featuring Colorado Springs Philharmonic)
Mountain Miracles Midwifery Reviews
Tiffany is so sweet and personable. I always felt right at home when I would go see her, and she was more than welcoming to my other children coming with me. She is empathetic and knowledgeable. When we found out our 3rd baby was breech at 36 weeks, she literally did everything in her power to help me and get me the referrals I needed quickly. She was so supportive and encouraging during an emotional time and was available 24/7 and always texted or emailed right back! Thankfully, we were able to get our baby flipped and we had a beautiful, peaceful waterbirth at home!

-Hayley Tallman

We started seeing Tiffany halfway through the pregnancy (this was my second baby). This time around, I wanted to do a water birth, because I remember wanting to be in water so badly last time at some later point of labor and I had heard so much about this "natural epidural". I wish every mother could have a birth like I did the second time around. Not only because it went pretty fast this time, but because I was able to labor by myself at home and then had the encouragement of a midwife during that last difficult stage (my dear husband is not exactly the encourager during labor as he stresses out about birth, haha) while still being left alone for the most part. No checking of how dilated I was, no unnecessary machines, no needles, no nothin'. After my little one was born, dear Tiffany and her helper cleaned everything up, did laundry, and just let us be and bond with our new baby. Also no bright hospital lights and we were able to go to sleep in our own cozy bed afterwards. It was so … peaceful. And while the last 25 minutes of labor were not fun whatsoever, because – let's be honest – pushing just sucks (the water tub still made such a difference, though!), overall it was simply beautiful. And the way it should be. I would indeed look forward to another birth like this (minus the pushing, haha). Being at home makes me feel way safer than being in the hospital. Tiffany was amazing both during our visits throughout the pregnancy and then during and after the birth (she also came back to our home to check on the baby a couple of times after the birth). She really makes you feel loved – it feels more like a friendship. I also really like that she was a nurse before becoming a home-midwife and that she hence had a really good, healthy balance of natural and what would medically be a good idea or simply safe. Even my husband couldn't have asked for less anxiety-causing care before, during, and after the birth. I couldn't recommend Mountain Miracles Midwifery more, they couldn't be any better! ❤️

-Dorothea Clapper
Our first baby was born at home with the help of Tiffany and her team with Mountain Miracles Midwifery. We had an amazing experience and I felt empowered, well supported, and secure to have my baby outside of a hospital! 6 weeks after our baby boy was born we moved back to our home in FL. We had such a fantastic experience with Tiffany that we joke we'll just fly back to Colorado to have all our babies with her! We loved everything about Tiffany, her experience, her ability to judge a situation from the Natural and medical side, and her overall caring and loving heart for our family! I highly recommend Mountain Miracles Midwifery!

-Sierra Walsh

I can't recommend Tiffany and Lauren enough! Pregnancy after miscarriage is both hopeful and terrifying at the same time. After having a less than pleasant 1st trimester experience with supposedly one of the top OBs in town, my husband and I set our sights on a homebirth. We are so glad we did. Tiffany put me at ease with her pregnancy expectations and knowledge at my consult. She is thorough in her work and answers all questions, no matter how inconsequential. She is so positive about homebirth and I knew we'd found the right provider. I met Lauren a few visits in and was impressed with her similar demeanor and calm excitement about midwifery and homebirth. I had a relatively easy pregnancy, but I did have some emotional ups and downs as a first time momma and these women were there for me. Not once did I feel an ounce of judgement for any part of who I am or what our goals were with homebirth. Tiffany also recommended excellent birth support with references for doulas and birthing classes. We welcomed our baby boy in October 2018 after 33 hours of labor. Family and friends have been shocked by that number, but it was one of the most incredible and wonderful experiences of my life thus far. Contractions started at 6am on a Sunday morning. Our doula (Candace McCollett) arrived around 4:30pm that afternoon and kept husband and I going through the night. Tiffany, Lauren and a nurse assistant arrived around 11am on Monday morning and our handsome son arrived at 2:50pm. Through it all Tiffany and Lauren encouraged me and used their incredible skills to help me bring our baby boy into this world naturally and safely. And then the team did an amazing job returning our home to normal, making sure we had a meal and continually checking on us and baby. We got set up for breastfeeding, baby had a wellness check and then they made sure we were comfortably resting before their departure. We are looking to grow our family and we can't wait to have another homebirth. If you are considering this option, meet these fantastic women!

-Amy Kadrmas
You may have found us by searching the following terms
Water birth Colorado Springs

Aqua natal Colorado Springs

Birthing in water Colorado Springs

Water birth center Colorado Springs

Water birth hospital Colorado Springs

Natural childbirth Colorado Springs

Home water birth Colorado Springs

Doula for water birth Colorado Springs

Midwife for water birth Colorado Springs

Water birth classes Colorado Springs
Some of Our Important Links
About Us
Our Services
Our Stats
Testimonials
Contact Info
Insurance Accepted
Free Consultation